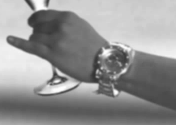 The 07 Time Champion is a watch produced by Febrizzio's Homme. It acts as a plot point in Bear Stearns Bravo, Second Impact, convincing Franco & Glyph to withdraw their dependance on Mendoza
Speculation
Edit
Mendoza was photographed bathing at a spa & having drink with someone who wore a Time Champion. When Phillipé presented Franco with the photograph, she took it as evidence that Mendoza was "bathing with the enemy", specifically a man. The implication was that Jackie was the wearer of the Time Champion, and hence the enemy. However, the hand shown in the picture (a cropped version of which is shown above), is very dainty, implying that the wearer is not male, and hence that they are misguided[1].
References
Edit
Ad blocker interference detected!
Wikia is a free-to-use site that makes money from advertising. We have a modified experience for viewers using ad blockers

Wikia is not accessible if you've made further modifications. Remove the custom ad blocker rule(s) and the page will load as expected.