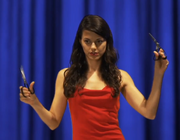 Sonata is a famous singer[2] & superstar. She claims to be one of the five real masters of Big Gallup, and proved her skill by beating Lasso & winning the Big Gallup tournament[2].
Appearances
Edit
Pronunciation Book
Edit
Sonata is referred to in 36, which mentions the hotel dreams (several of which she features prominently in). LTAS's gif for 16 depicts Sonata w/Franco at the bar.
@Horse_ebooks
Edit
Bear Stearns Bravo
Edit
Speculation
Edit
References
Edit
Ad blocker interference detected!
Wikia is a free-to-use site that makes money from advertising. We have a modified experience for viewers using ad blockers

Wikia is not accessible if you've made further modifications. Remove the custom ad blocker rule(s) and the page will load as expected.